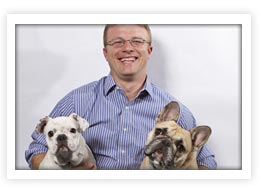 J.B. Stine
VP of Revenue Development
As VP of Revenue Development, J.B. has headed up the claims and customer service departments since May 2009. Prior to assuming the role full time J.B. was a project manager involved in all aspects of the business from investor relations to retail partnerships.

Before Trupanion, J.B. spent five years in the venture capital industry as an analyst, most recently with Trupanion investor Maveron, and has worked with over 75 different startups.

As the Senior Analyst at Maveron, J.B. was involved in Maveron's initial investment in Trupanion and continued to work closely with the company for over a year before joining.

J.B. graduated with a BS in Economics from the Wharton School at the University of Pennsylvania in 2003, concentrating in Finance and Entrepreneurial Management.

A converted west coaster, J.B. loves to spend his free time in the outdoors with his fiancé and Dude, his 2 year old French Bulldog.
About Us
The Trupanion Team
Career Opportunities
Partnership Opportunities