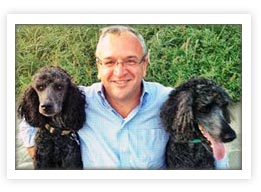 Michael Banks
CFO
Mike Banks joined Trupanion in 2012. As the Chief Financial Officer, Mike oversees all financial functions within the company, including financial plans and policies, accounting practices and procedures, and Trupanion's relationship with the financial community.

Mike brings a common-sense approach to leadership, and a reputation for balanced judgment, stability and a capacity to steer consensus among diverse agendas and visions. Mike is a 1981 graduate of the University of Delaware and brings more than 30 years of leadership experience to Trupanion.

Prior to joining Trupanion, Mike served as Executive Vice President and Chief Financial Officer at Penn Millers Holding Corporation in Wilkes-Barre, Penn., where he was responsible for strategic planning, performance management systems, acquisitions and divestitures, and building operations and services. He has also held leadership positions at Atlantic Mutual Companies in Madison, NJ; AMBAC Indemnity Corporation in New York, NY; and KPMG Peat Marwick in Short Hills, NJ.

Mike lives in the Ballard community of Seattle with his wife, Claire, two daughters, and two Standard Poodles.
About Us
The Trupanion Team
Career Opportunities
Partnership Opportunities