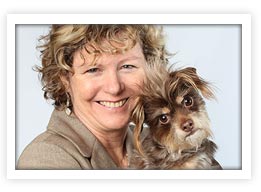 Dr. Kerri Marshall
Chief Veterinary Officer
Kerri Marshall, DVM joined Trupanion in June of 2011 as Chief Veterinary Officer. Dr. Marshall develops strategies, systems and teams to leverage technology to improve the customer experience for pet owners and veterinarians with pet insurance.

Prior to joining Trupanion, Dr. Marshall worked for 16 years at Banfield Pet Hospitals and prior to Banfield, she worked in private practice and at University of California, Davis. During her career at Banfield, she gained experience from the start-up phase of the rapidly growing business and held leadership roles in medicine, operations, and IT as Banfield grew from 30 hospitals to almost 800 hospitals nationwide.

During the last 8 years at Banfield, Dr. Marshall built and grew teams and led design and testing processes supporting the proprietary electronic health record and practice management system, PetWare® and the client portal.

Dr. Marshall graduated with her doctorate in veterinary medicine from Washington State University. She also completed an executive program and received a Masters in Business Administration from the University of Oregon. Dr. Marshall lives in Seattle with her husband, Andrew Muray, a physicist and the founder of Nanoport Technologies, and their 4 four-legged children: Rudy Einstein (a terrier/dachshund mix), Maya and Popo (10-year-old Chihuahuas), and Mona Montana (a rescue cat).
About Us
The Trupanion Team
Career Opportunities
Partnership Opportunities