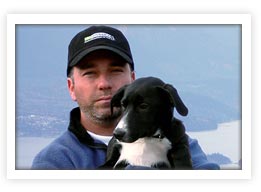 Darryl Rawlings
CEO
Darryl Rawlings is an animal lover and serial entrepreneur. As Trupanion's CEO and founder, he brought transparency and value to the pet insurance business. His appreciation of the special relationship between pets, pet owners and veterinarians led him to invent a new kind of pet insurance. Trupanion insurance is designed to ensure that pet owners and veterinarians can make the best decisions about a pet's health. It does not punish pet owners for making claims. It is the only pet insurance that has no limits.

Trupanion is an industry leader in terms of its product, but also in terms of its organization. In order to provide high quality customer service, Darryl developed the concept of Territory Partners, who work closely with veterinarians and are vested in the long-term success of Trupanion. Everything about the company is designed to create long-term alignment between all stakeholders.

Darryl was born in Vancouver, Canada, and studied business at BCIT. Before his launch as an entrepreneur, he worked as Director of Sales and Marketing at Telos Engineering, where he was responsible for cellular network sales in North and South America and Africa. Before that, he sold encryption technology to the cellular and military markets at Cycomm International.

In 1994 he founded his first business, the Canadian Cigar Company. As an international importer of over 1,000 varieties of quality cigars, the Canadian Cigar Company served international cigar club proprietors, four-star hotels and bars, exclusive golf resorts, and retail stores. Darryl successfully grew the company and sold it in 1999. He used the proceeds from the sale to found Trupanion (as Vetinsurance, in Canada) in 1999.

Between 1999 and 2005 Darryl refined his pet insurance product and business model in Canada. In 2004 the company became the first profitable North American pet health insurance provider, and a year later had grown by 4% per month for the previous twenty-four months, with the highest rates of retention and consumer satisfaction in the industry.

In 2005, Darryl decided to expand into the United States and to become the first North American pet insurance provider to become licensed to do its own underwriting. In 2007, the company raised $22 million from Maveron (a leading VC fund specializing in consumer branded products), RenaissanceRe ($4 billion reinsurance company) and a large private equity group. The company was rebranded as Trupanion. In 2008, a Series B round followed.

Darryl balances his time between building the world's best pet insurance company and his wife Caroline and their two young sons, Sam and Bennett. Occasionally he gets in a day of boating.
About Us
The Trupanion Team
Career Opportunities
Partnership Opportunities